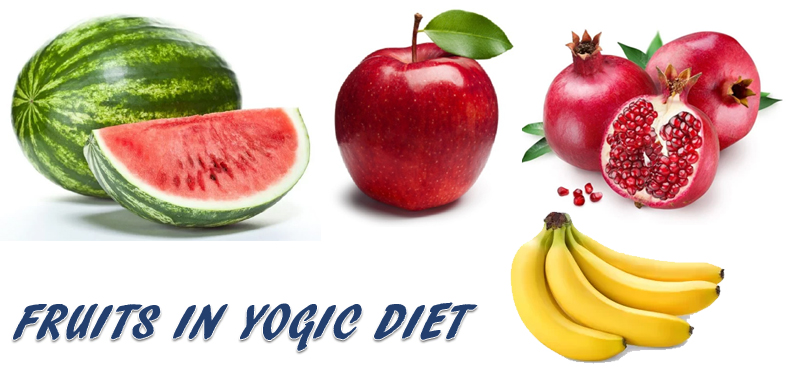 Yoga Training Course provides the opportunity to improve the strength and flexibility of the practitioner. Hatha yoga curriculum brings the balance of the mind and body. It also recommends a person to inculcate the discipline in diet and nutrition to maintain the sustained yoga practice on regular basis.
While practicing the yoga it is important to maintain the energy levels. Fruits are one of the best sources of quiet energy in the Yogic diet. They play a very prominent role in the promotion of positive health of both the mind and body. The subtle effects of the fruits on the mind contribute for concentration, mental peace due to their satwic quality. Food with Sattva quality is good for health, endurance, the longevity of life, cheerfulness, purification of intentions, awareness and connectivity with the precise balance of quiet energy and undue waste.
Fruits are also good sources of micronutrients such as vitamins and minerals and fiber. Eating fruits after the morning practice of the Yoga class in the breakfast is one of the healthy principles of nutrition. The following fruits are the good choices of yogic diet.
Banana is the one of the easily available fruit around the year. This is rich the vitamin A which is very useful in the cellular growth, improvement of the eyesight. Potassium is the mineral in this fruit contributes for the regulation of the electrolyte balance and neuromuscular coordination. It is also the rich best source of fiber for maintaining the healthy peristalsis.
Apple is the rich source of energy in terms of sugars. Regular consumption of apples boosts the energy levels and immunity. This is helpful to overcome the weakness and general fatigue syndrome. The antioxidants in apple are really helpful in the prevention of infection. It aids in the improvement of the digestion and metabolism.  Iron, Phosphorus, calcium and potassium are important minerals are found in apple.
Watermelon is the best choice for some of the important vitamins and minerals such as potassium, calcium, vitamin C and vitamin A. It is useful in the purification of the body due to its large content of mineral potassium and hydrating quality. Watermelon juice is a superb drink to feel replenished quickly after the practice.
Pomegranates are loaded with the important nutrients for positive health. It is good to improve the hemoglobin in the blood. The antioxidants present in this fruit are helpful to boost immunity and prevention of diseases. It is effective in the dental care due to its antiviral and antibacterial properties. A research work at Washington University explains that Pomegranate juice is very healthy drink during Pregnancy because of the higher levels of polyphenolic antioxidants in it.