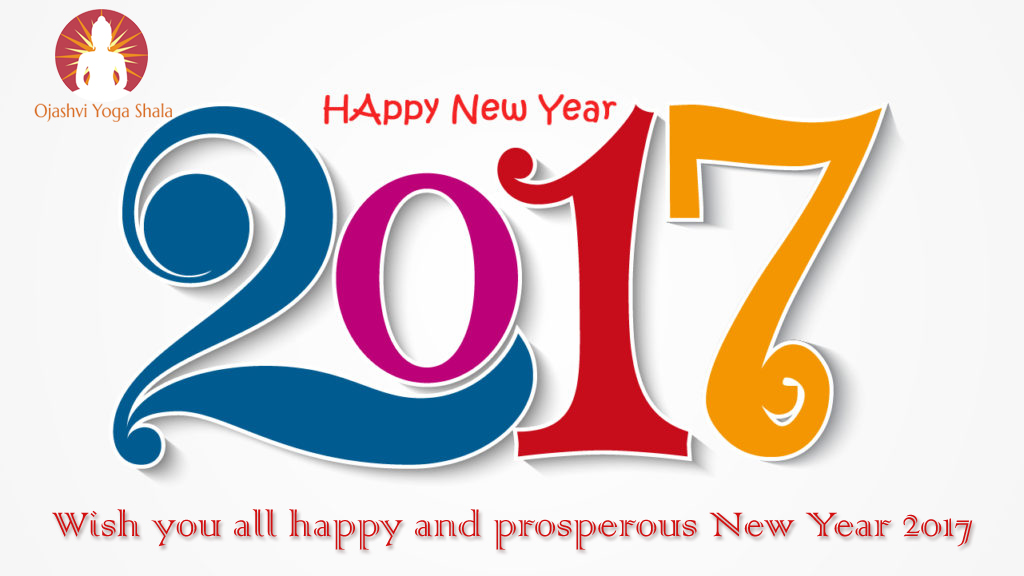 Wish you all happy and Prosperous New Year 2017. Around the world 1st January is being celebrated as the festive time. New Year celebration is a time to feel the joy in abundance. In this moment we shall contemplate on our goals and priorities to achieve them successfully. The entrance of the year can help us to reflect on the past so that we can learn from our experiences and overcome the unpleasant one of the past.
As the year passes, always every one of us desires to be focused on healthy and happy in the life. The positive physical and mental health is one of the most precious treasures of our life. The practice of Yoga and its principles is one of the best means to maintain the good psychosomatic health.
Yoga Teacher Training Course in Rishikesh is one of the wonderful opportunities to learn the ancient science and art of healthy living in India. The program will help in understanding the Philosophy of Ashtanga Yoga of Patanjali. The exposure to the Curriculum of classical Hatha Yoga will be helpful to keep the mind and body in sound state of health which is free from disorders.
The course is conducted by Ojashvi Yoga Shala in Rishikesh which is the World capital of Yoga filled with abundant spiritual energy in the lap of the Himalayan Mountains enriched with the serenity of the ever flowing Ganga river surrounded by greenery of the forests. Yoga in Rishikesh is nurtured by the eminent sages and saints of the country since from the ancient time.
New Year day we all make some resolutions and determinations to focus on objectives in our life. But many times they are not being fulfilled on account the lack of Discipline, will power and sharpened Intellect. Yogic practices are of the great help to gain the good will power, stable emotions including sharp intelligence. These are the triple aspects of our personality to achieve the productivity.
May this year 2017 bring us health, happiness and harmony for all of us through yoga.
May all be Happy and free from sufferings!
Loka Samasta Sukhino Bhavantu