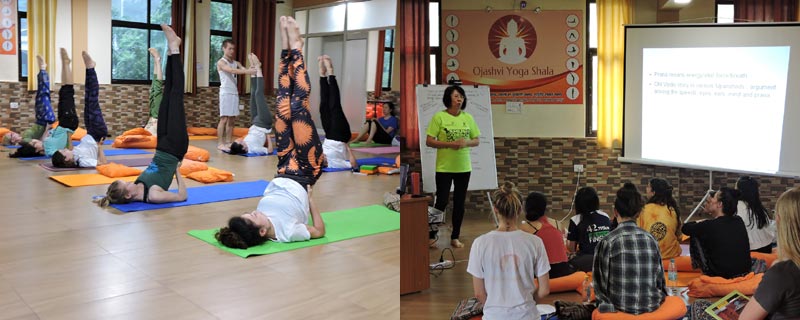 Yoga is the ancient and comprehensive psychosomatic training aiming in bringing the best possible holistic health to the practitioner. The therapeutic and health benefits of yoga are attracting many people around the world. The development of the awareness on the importance of yoga in the modern time has increased demand for well-trained yoga teachers. Choosing a proper training course is not an easy task for many aspiring neo-yoga practitioners.
Yoga Teacher Training Course is not just a milestone in your budding career as a yoga teacher but is also a life-changing experience for you as an individual. It is a journey filled with lots of ups and downs, memories, tears, sweat, hard work and unexpected surprises but it is also one of those memories which you will cherish your entire life.
In fact, no one can actually prepare you for your teacher training but there are stills some tips which prove helpful in getting your nerves steady for this life-changing experience.
Figure out your style of yoga– Typically, the style of yoga that you have been practicing in your normal life on a day to day basis. And hopefully, it is the one that you are willing to practice and teach for many more years to come. Hatha Yoga is one of the most fundamental training for the wonderful journey of the Yogic path. Figure out the various schools and teacher training courses being offered there, the different styles of yoga they specialize in and then choose the one which is ideal for you.
Find out the class size– The class strength does matter and can affect your teacher training experience greatly. There are schools which offer batches with just 10-15 students while there are others with more than 50-60 students in a single batch. Ask yourself if you will be comfortable practicing with 10 students or 50 students. Another important thing to take into consideration is the cost of the training. Fees structure varies from school to school depending on where it is situated, the infrastructure and the facilities being offered there. Consider both the aspects (class strength and cost) and then finalize your choice.
Set your intentions– Not just for your yoga teacher training, but setting your intentions is a great habit before you start with something new. Throughout the process, remember why you started practicing yoga and why you want to teach it. This little habit proves to be very helpful during tough times when you are thinking of giving up.
Be ready for physical and mental exertion– Yoga teacher training session generally start early in the morning and end at late evening hours. During these 8-10 hours, you will be meditating, taking classes, practicing Asanas and Pranayama and will take more classes. To deal with all these activities every day for a month or more you require both physical and mental strength. So before you get started with your yoga teacher training session prepare yourself for the demanding days which are about to follow.
Keep an open mind and embrace positivity– During your teacher training course you will learn a lot of new things and will also meet a lot of new people. Keeping an open mind and maintaining a positive perspective will help you sink in all the information and knowledge that is being offered in the class while repelling all that which negative and unwanted.