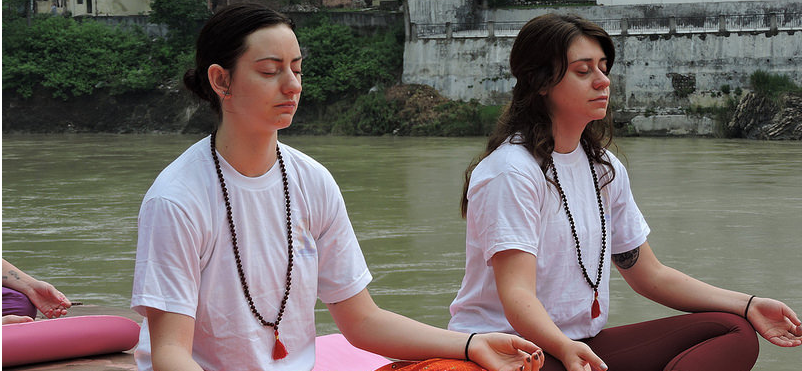 Prenatal Yoga Teacher Training Course is one of the best opportunities to harness the skills of meditation practice and teaching in order to help the journey of expecting mothers a blissful way. The different stages of pregnancy are going to bring the physical and mental health issues. There may be physical stiffness, emotional upsets or mood swings.
Maharshi Patanjali in his Yoga Sutras (PYS III.7) defines meditation as an unbroken flow of awareness. This is useful for the improving concentration and one-pointedness along with various psycho –physiological benefits to the practitioners.
Meditation has been of great help in maintaining maternal mental health and well being. The witnessing ability in the practice is great tool to deal with anxiety and depression which are more common in the first trimester of the pregnancy. Techniques of meditation are an antidote for the stressful situations as the hormonal and physical changes are challenging and bring the effects of the stress.
Progressive muscle relaxation in this practice helps to relieve physical tensions and develops the balanced and refreshed feeling. This is also good to overcome the general tiredness, fatigue syndrome and stiffness of the muscles and joints in the body. The change in the physical conditions also disturb the quality of the sleep, some time develops the conditions of Insomnia too. The entire arena of relaxation principles is also helpful to improve the sleep patterns and its quality including the pain management and reduction in the labor pain.
The purification of power meditation enhances the mental essence or the satwic quality of the practitioner, this effect is good to overcome the mental toxins such anger, greed etc. These are more common to produce the negative tendencies in the lower mind. The practice brings the positive view to the life and thinking which are good to release the endorphins. These chemicals are believed to boost the immunity.  The positive frame of mind and thoughts are significant to the health of the newborn baby. The practice is important opportunity to connect you to your innermost nature and to bring the calmness and peace of mind. You can improve the concentration, memory and feelings of well-being.
It is good to have the regular practice of the  Curriculum of Meditation Techniques to get the qualitative benefits and they need to be learned from the experienced yoga teachers. The discipline of the diet and lifestyle are also considered to enhance the outcome of the meditation practice.