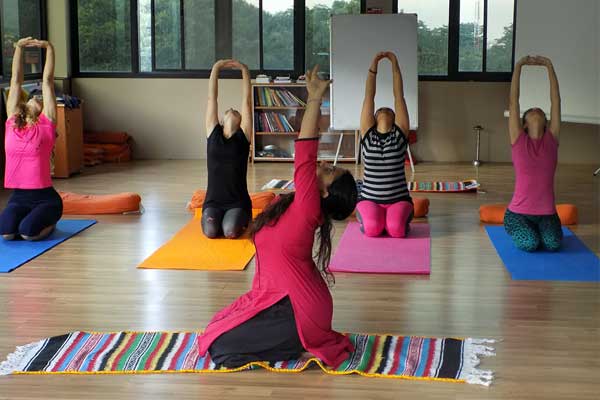 Pregnancy or gestation is an important and one of the greatest experiences of women to be a mother. This journey spreads across three trimesters in 09 months where in the baby in the womb of mother achieves the growth and development physically and mentally. This development is highly being influenced by the health and personality of expecting mother in many ways.
This process of creation in the modern time due to the sedentary and semi sedentary life style is experiencing various risk factors and other pregnancy related complications. Yoga as a process of discipline with a focus of integral development of a personality is beneficial to attain this journey with safety and confidence.
Prenatal Yoga is one of the special applications of the Yogic principles and practices which is helpful to enjoy the three trimesters of the pregnancy. The therapeutical applications of yogi diet and modules of yoga influence the mind and body of expecting mothers so that they shall be in the state of the harmony throughout this journey.
The physiology of pregnancy presents various challenges in each of the trimesters and these challenges are effectively addressed with a well designed prenatal Yoga classes under the guidance of the competent Yoga teacher.
The yoga poses are helpful to improve the muscles of the pelvic floor, relieve the joint's stiffness and any tendency of the arthritic changes. Practices of Yoga Asana relieve the constipation and restore the digestion.
The practices of Pranyama such as Ujjayee and Anuloma  Viloma are very useful  to stay calm and peaceful .  During the childbirth and labor such practices can ease the pain and reduce the impact of the stressful situation to a larger extent.
Meditation and relaxation techniques are always helpful stabilize the autonomic nervous system and serves as effective means for the stress management.
Experienced Yoga teachers who have the understanding of the process of this journey are required to ensure that the classes will never lead to the fatigue conditions while a pregnant woman is in the practice . The prenatal Yoga session should not have the poses which are more prone to cause injury such as twisting poses, Deep forward or back bendings  including the poses like Shalabhasana or Dhanurasana  type which exert intra abdominal pressure.
Safety is always considered with paramount importance in Prenatal Yoga Session .Teachers should not posses the over confidence during these sessions, with compassionate approach they must be free to listen to the concerns of the practitioners with an eye on the associated complications such as Sciatica,  Back pain or Constipation problems. Encourage a long relaxation at the end of each training session.