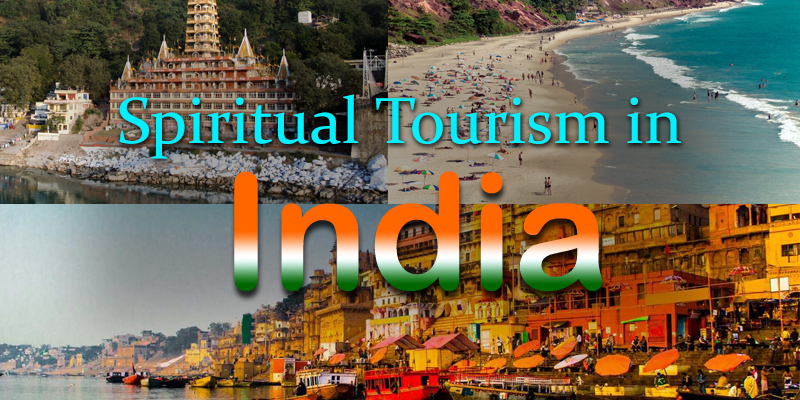 As you walk through the lanes of India you will find idolization of god in all possible forms. Chances are everywhere you go you will find a temple, a gurudwara, a mosque or a church which symbolizes spirituality and religion. For thousands of years, India, which is the most spiritually enriched place on the planet, has been the cradle of spirituality. Being the land of the Vedas and temples it won't be wrong to say that India is the spiritual capital of the world.
India- the holy land has always been on top of the list for spiritual tourism and has also seen a considerable growth when it comes to the incoming of spiritual travelers. A land of yogis and mystics, India is truly a unique country which has many mysteries and secrets unrevealed and show her secrets slowly to the visitors. People from all over the world come to this spiritual land to learn and indulge in various Vedic and religious practices which most of the westerners are obsessed with and are curious to learn about.
Most of these visitors have either Yoga or Ayurveda on their priority charts which are the two practices that have been prevalent since time immemorial. Millions of people fly down from all over the world just to learn these techniques of peace and longevity of life. What could be a better place to learn about all these techniques than the birthplace of these techniques? For those who question their very existence, this Vedic land holds all their answers.
Some of the places which are on top of the charts for those who come to India seeking spiritual "enlightenment" are Rishikesh Haridwar, Varanasi, Bodhgaya, and Kerala.
Rishikesh- Rishikesh is the birthplace of yoga and therefore is on top of the list of potential yogis and people who are curious to learn the aspects of the ancient practice yoga. The city is located on the banks of the river Ganges and is surrounded by the Himalayas on three sides. With numerous yoga ashrams and Yoga Teacher Training institutes, Rishikesh is the ideal destination for spiritual seekers.
Haridwar- The meaning of the word Haridwar translates to the "gateway to god". Haridwar is one of the oldest inhabited and holiest cities in India. Situated in the foothills of the Himalayas in the state of Uttarakhand, Haridwar is a popular pilgrimages spot for the Hindus. It is believed that taking a dip in the river Ganges washes away all the sins. The evening "aarti" on the ghats is a sight to behold and will instantly make you feel spiritually awakened.
Varanasi- Varanasi is one of the seven sacred Hindu cities in the state of Uttar Pradesh. It is believed that the city was created by Shiva, the god of creation and destruction. It said that anyone who dies here is set free from the cycle of reincarnation and is liberated. The city holds a spiritual vibe in its air which can only be felt and not explained.
Bodhgaya- Bodhgaya is situated in Bihar and is a very important Buddhist pilgrimage spot. It was here that Lord Buddha became enlightened under a bodhi tree. The town has dozens of Buddhist monasteries which offer a number of meditation and Buddhism courses and retreats to choose from.
Kerala- Kerala is situated in the southern part of India and is a coastal state. It is particularly known for Ayurveda which is a 5000-year-old wellness and healthcare system which aims at combining the profound thoughts of medicine and philosophy. Kerala is the home to numerous Ayurveda as well as yoga and wellness centers which aim at providing spiritual wellness. Westerners particularly are attracted to Kerala not only for its spiritual vibes but also the scenic beauty.
Even today, people seeking spiritual consciousness in the form of yoga and meditation prefer coming to India which is the birthplace of yoga. In India, Rishikesh and Varkala (Kerala) are amongst the top choices of people who visit India for this purpose. Both Rishikesh and Varkala are extremely popular among westerners who are looking forward to deepening their knowledge about these spiritual practices. India has slowly turned into the Mecca of spiritual tourism and it won't be wrong to say that the divine land never left any curious mind without any answers.
With religions like Hinduism, Islam, Sikhism, Christianity, Buddhism, Jainism and more living together in peace, India is considered as the perfect example of religious harmony. Even after being a Hindu centric nation, religions such as Buddhism and Jainism are given equal importance to flourish. Being a multi-dimensional and multi-cultural country, India offers a life-changing experience which will surely make you question your inner consciousness about each and everything around you.
So when you visit India be prepared to experience a plethora of emotions such as happiness, excitement, sympathy, joy, surprise, connection and love all at the same time. This is how India greets you and leaves you in awe. Visiting India would be an experience of a lifetime and no words are enough to explain the spiritual connection you will experience here. It is something which one needs to experience on its own.