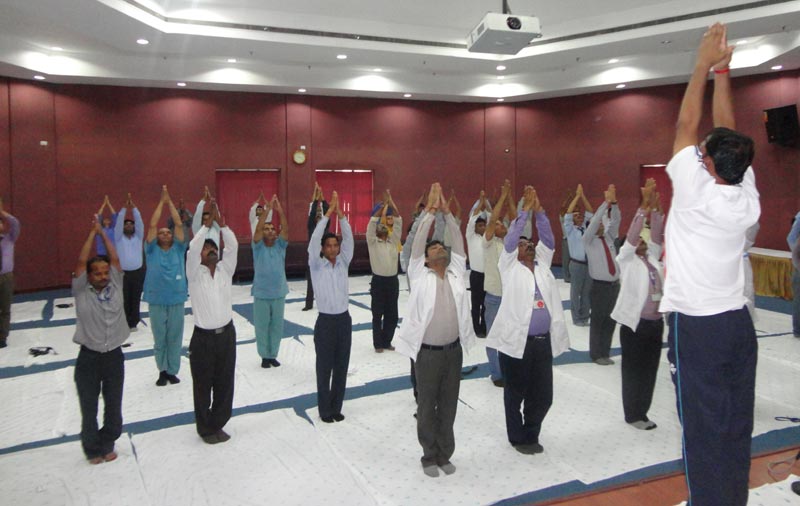 Yoga is a basically a spiritual discipline based on an extremely simple science which aims at bringing harmony between the body and mind. It is both the science and art of healthy living. The holistic approach of yoga is well structured and is aimed at bringing peace in all walks of life and is known for prevention of diseases, health enhancement and management of lifestyle-related disorders.
At present, yoga has become extremely popular across the globe not only because of its efficiency in managing a lot of diseases but also for its capability to provide relief from mental and emotional trauma. This is the reason why nowadays yoga is being practiced by people as a part of their healthy lifestyle. Yoga can also be called as the ancient culture of consciousness, the science of awareness, excellence in professional life, balanced state of body and mind and much more. It is amazing how this ancient spiritual practice is spread around the world so that anyone and everyone can benefit from it. Yoga has a holistic approach which if accepted as a way of life, can change your life from ordinary to extraordinary.
All the efforts you make for self-improvement is yoga. There are different ways in which man has disciplined himself to gain better control of his life and to gain knowledge. In India, this process happened through yoga. The process of yoga is aimed at gaining the complete control of one's personality so as to discover their true self.
Yoga in modern times
The practice of yoga is believed to be just as old as the human civilization itself. Yoga is popularly considered as an immortal cultural outcome of the famous Indus Valley Civilization and proved to be beneficial catering to both spiritual and material uplifting of humanity.
The various traditions, philosophies, Guru-shishya paramparas and lineages of yoga lead to the birth of different traditional schools of yoga such as Bhakti yoga, Jnana yoga, Dhyana yoga, Karma yoga, Kundalini yoga, Patanjali yoga , Mantra yoga, Hatha Yoga, Laya yoga, Mantra yoga, Jain yoga, Raja yoga, Buddha yoga and so on. Each school function on its own principles and practices leading to the ultimate objectives of yoga. The different types of yoga sadhanas are considered as the ultimate path to a meaningful life and living. Its inclination towards comprehensive health makes it the ideal practice for people of all races, religions and nationalities. Nowadays, millions of people have gained from the practice of yoga which has been preserved for centuries and is now being promoted by the eminent yoga gurus all over the world. Today, millions of people have accepted yoga as an integral part of their lifestyle. There are Yoga Schools all over the world teaching the basics of yoga to people; and there are more advanced yoga institutes providing Yoga Teacher Training to students who are enthusiastic enough to become a yoga teacher themselves.
Benefits of yoga for a health and lifestyle
The modern lifestyle has brought many threats to the health and has turn into a major cause of several ailments among people all over the world. Sedentary lifestyle, stress and unhealthy eating habits may lead to a decline in overall health and may also lead to diseases such as asthma, diabetes, heart ailments, different types of cancers and metabolic disorders. So can yoga be the ultimate cure for treating all modern day problems?
Yoga has the capability to solve lifestyle defects and psychosomatic diseases. A lot of research studies were performed to evaluate as well as validate the benefits of yoga for the prevention as well as the management of diseases. It was established that yoga positively affects the autonomic nervous system, endocrine system, cellular and molecular aspect of the yoga practitioner. It was observed that regular practice of yoga helps in stabilizing the autonomic equilibrium and strengthening the parasympathetic system thus reducing the wear and tear in different physiological systems. It also slows down the aging process.
Yoga may also be useful for reducing the requirement of medication in diabetics and people suffering from hypertension, it may also help in managing cardiovascular complications.