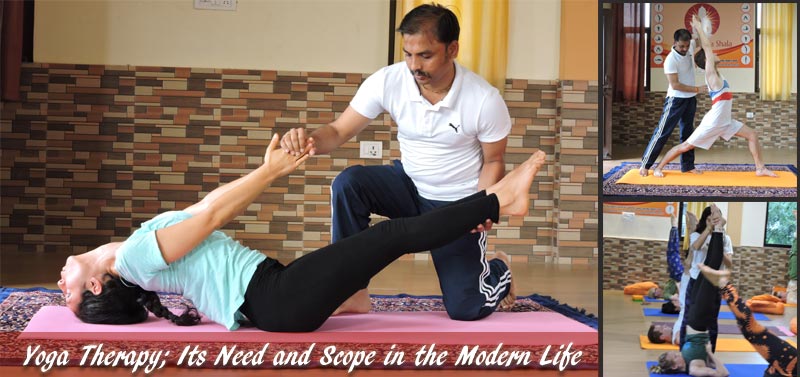 Global healthcare system is experiencing the great threat from the modern lifestyle diseases which have been causative factors for the high risks health conditions such as hypertension, obesity and insomnia.
Yoga is the science and art of attaining the good health of mind and body. It has been one of the means of the alleviating the sufferings of the mankind since from time immemorial.
Yoga therapy is one of its important applications in order to improve the strengths of the healthcare system in general and prevention of Psychosomatic and Lifestyle Disorders in particular.
Yoga Therapy is "Adopting the practices and principles of Yoga, including lifestyle, food habits to an individual suffering from a disease".
Therapeautical applications of Yoga are helpful in many ways; they are used as preventive, curative and promotive measures of the healthcare system. Yoga practitioners can achieve the harmony, health, and holistic lifestyle through these applied aspects of Yoga.
The Yoga Training Curriculum of Maharshi Patnajlai in the form of the practice of Ashtanga Yoga has two distinct results. The reductions in the impurities and development of the wisdom. These impurities are present in the physical, mental and moral levels and they are the sources for many physical and mental diseases. The wisdom is used to overcome the sufferings arising on account of the afflictions such as ignorance, attraction and aversion.
The practice of therapy applications in yoga requires a person to have a proper Training in Yoga with self-study and practice at a Yoga School or institution.
The need of the practice of the Yoga therapy is increasing since many of the psychosomatic health conditions are not treated effectively with the help of the modern medicine as they are not sufficiently successful for the relief of the stressful situations affecting the mind.
There is significant scope for the Yoga therapy as principles and practices of Yoga are helpful for the revival of our heritage and culture along with the achievement of the best possible health through its different modules on a daily basis.
The wise approach on the collaboration of modern medicine and applications of Yoga will have considerable benefits on our health care system. The practice of holistic approach to healing and well being in Yoga is another specific advantage which incorporates our culture, diet, environment and tradition. These practices are economic in nature and can help in the reduction of the dependency of the drug dosage.