India has given something unique to world called "Yoga". So much so that Yoga schools have been established all over the world and have almost the same
Yoga Teacher Training Curriculum
. But the real feel of Yoga is India which is the land of origin of Yoga. Going to the source of the knowledge helps to know the basics better, and also you get some of the best Yogis as teachers who have dedicated their whole life towards Yoga. Their methodology is different from professional teachers as they go deep into the sadhana and the skills of teaching yoga too. Then there is the yoga wisdom offered which helps you to get the maximum out of your life. This article tries to explore the perspectives of
Yoga Teacher Training Course in India
.
1. Yoga History is in India: Since vedic age Yoga has been developing in India, and it was Maharishi Patanjali who incorporated the knowledge in his sutras. So, the history of Yoga is divided into three periods viz. pre-Patanjali i.e. before 500 BC, Patanjali era 500 BC to 500 AD and post-Patanjali era i.e post 500 AD.
2. The Yoga Lineage :
Going to the source of knowledge is the best way to learn. The ancient knowledge books "The Upanishads" say that sitting close to the knowledge source (Teacher). You can never get the full feeling of Yoga while doing it away from India. After all, all the knowledge was compiled in India by many
Indian Yoga Masters
. You can also catch up with some of the original Yoga texts and read what you will be doing in your
300 hour Hatha Yoga Teacher Training Course
in the library of your Yoga school.
3. India the land of Ayurveda: Yoga takes cue from the ancient medical science of Ayurveda, and India is the place where you get the full on knowledge of Ayurveda in Yoga schools. It is a complementary course which goes a long way in getting the full benefit of Yoga.
4. The Holy River Ganga: Rishikesh is known as the land of Yogis, because it has the holy river Ganga flowing through it. The water has so many medical properties that merely bathing in the river will help you feel energetic, fresh and get rid of many ailments. Even healthy people taking a dip in Ganga before Yoga feel the surge in energy. And there is nothing like an evening walk along the river bank. You get to feel what the Yogis felt when they started the practice of Yoga.
5. It is economic to do Yoga TTC in India: Yoga TTC is inexpensive in India when compared to the rest of the world. You will get fooding, lodging and training for affordable price, which is anytime economical than anywhere in the world.
6. International Credentials: The yoga schools and teachers in India are up to date with international standards. The teachers in India come from Universities of Yoga where they get proper training, study and practice. The yoga schools are registered with Yoga Alliance USA which is one of the best credentials body in the world.
7. Yoga away from home means full immersion: When you are away from home for a purpose, then you will do the thing with much more attention. So, even if you are situated in India try to go to some other place away from home so that you can immerse yourself fully in Yoga. Do this and you will feel the difference.
8. Many places to discover: The Yoga journey in India is not just one city. Though the yoga capital is Rishikesh, there are many places to explore. Mysore is known for Ashtanga Yoga and Kerala for Yoga with Ayurveda. You can also go to the upper Himalayas for Yoga and learn from the Yogis and Tapasvis. If you want to know more on the Historical Developments of Yoga these are the places to go and experience where it all started.
9. Getting cross-cultural Training: When you come to India, you will never get similar culture. It is a country with diverse cultures and languages and climates. When you land in Delhi, you will get a different kind of culture, and when you travel to Rishikesh, you will experience a different culture. The language, behavior and food are the three things that will change every 50 kilometers in India. This will help you to learn the basics of surviving in various situations before you can start the Yoga course. The best way to get cross-cultural training is to visit India for Yoga.
10. Experience the Diverse Cuisine: India has thousands of dishes you can try. The morning tea to the energetic Coconut water to the filling Lassi in drinks. In case of main course you can choose from Biriyanis of different kinds, and indulge in Hindustani, Mughlai, Punjabi and South India dishes.
11. Simple Living and Maximum Learning: You will hardly find luxurious living, albeit so in Yoga schools. The yogic way of life is simple living with vegetarian food that brings out the best in all of us. The best place to learn and experience that is in India especially in surroundings of Ashram.
12. Make friends from all over the World : People from all over the globe come to India for Yoga. Hence, it is the best place to make friends from all over. Just join a Yoga course or travel across India to find people from all continents.
Come to India for the unique experience of a Continent country, witness the history and also the transformation into new India, and also learn the way to enhance life by doing Yoga. The principles and practices of yoga under the guidance of the well experienced and extensively qualified Indian Yoga masters will go a long way to lead the healthy and happy life filled with harmony and peace..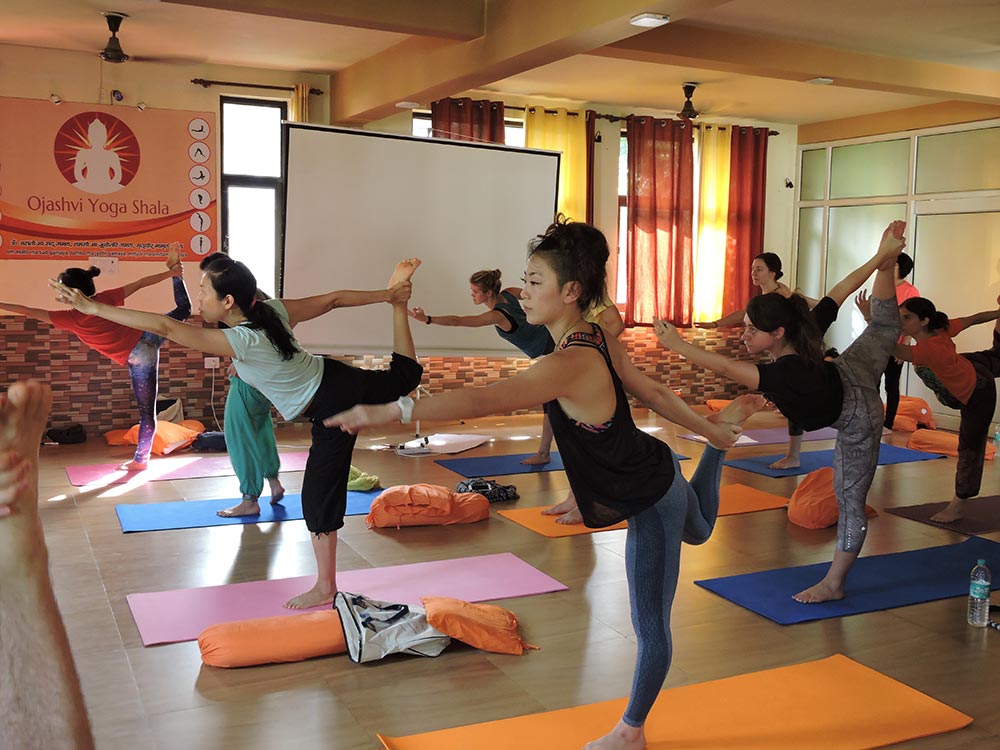 Latest Blog
The mention of "Chitta Prasadanam" which literally means Calm mind is in the patanjali Yoga Sutra 1.33...
Pregnancy is a wondrous moment in a woman's life. The happiness of bringing a bundle of joy in world...
First one should know that Yoga is not only physical exercise and breathing routine. It is much more ...